Classic Guacamole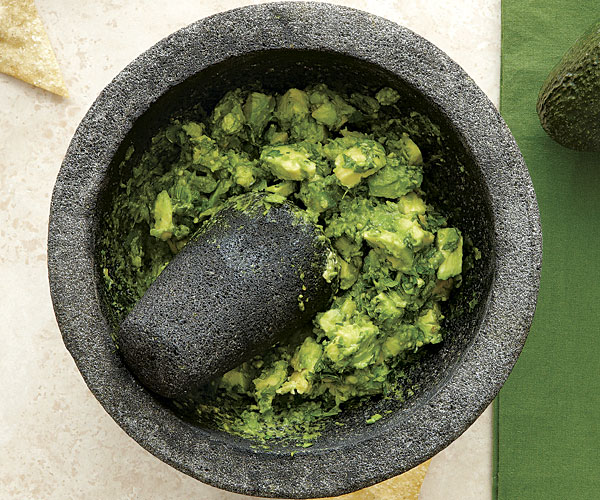 Big chunks of avocado are important to the texture of guacamole, so I mash it only enough to hold it together. When seasoning to taste, try the guacamole with the chips you're serving. They can vary in saltiness, so this is a good way to make sure you add just the right amount.
1/4 cup chopped fresh cilantro
2 Tbs. finely chopped white onion
1 Tbs. minced fresh serrano or jalapeño, including seeds; more to taste
Kosher salt
2 6- to 7-oz. ripe Hass avocados, preferably Mexican
2 tsp. fresh lime juice; more to taste
Using a mortar and pestle, or the blade and side of a chef's knife, mash half of the cilantro, the onion, the chile, and 1/2 tsp. kosher salt to a paste. Leave the paste in the mortar, if large, or transfer it to a serving bowl.
Halve and remove the pits of the avocados. Use a paring knife to score the flesh in a 1/2-inch crosshatch pattern, being careful not to cut through the skin. Use a spoon to scoop the avocado into the bowl. Add the remaining cilantro and the lime juice, and mash the avocado gently with the pestle or a fork, leaving some chunks. Season to taste with more lime juice, salt, and chile. It's best served immediately.
Make Ahead Tips
The guacamole can be made up to 1 hour ahead; cover the surface with plastic wrap and keep at room temperature.
nutrition information (per serving):
Calories (kcal): 50, Fat (kcal): 4.5, Fat Calories (g): 40, Saturated Fat (g): 0.5, Protein (g): 1, Monounsaturated Fat (g): 3, Carbohydrates (mg): 3, Polyunsaturated Fat (mg): 0.5, Sodium (g): 75, Cholesterol (g): 0, Fiber (g): 2,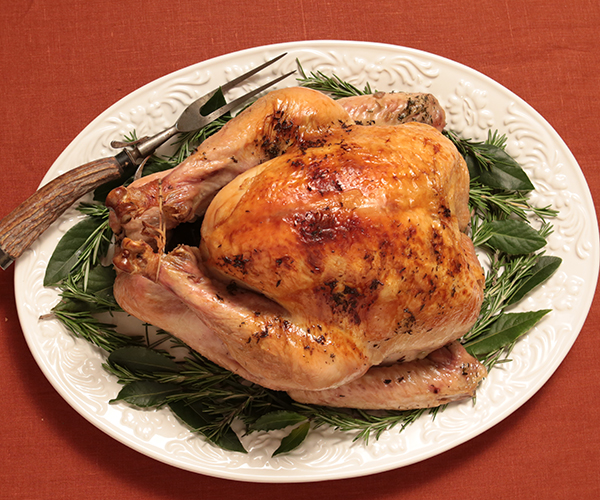 PREVIOUS ARTICLE
Butter-and-Herb-Roasted Turkey in a Bag