Home
Leek, Chicken, and Rice Soup
Leek, Chicken, and Rice Soup

The mellow sweetness of leeks mingles with smoky paprika to make this chicken soup perfect for a rainy spring afternoon.
1-1/2 lb. leeks (about 2 large)
3 Tbs. extra-virgin olive oil
2 cups finely chopped fresh fennel (from 1 large bulb; fronds reserved for garnish, if you like)
1/2 cup finely chopped celery plus 1/2 cup coarsely chopped celery leaves
1/3 cup jasmine rice
1 clove garlic, finely chopped
1/2 tsp. smoked paprika
Kosher salt and freshly ground black pepper
6 cups lower-salt chicken broth
1 lb. boneless, skinless chicken breast, each breast cut into thirds lengthwise, then thinly sliced crosswise
Fresh lemon juice, to taste
Trim the leeks, leaving the white and light-green parts. Slice in half lengthwise, then crosswise into 1/4-inch-thick half-moon slices to yield about 3-1/2 cups. Rinse well, then pat dry.
Heat the oil in a 5- to 7-quart Dutch oven or other wide heavy pot over medium heat. Add the leeks, fennel, and celery, and cook, stirring occasionally, until tender, 7 to 10 minutes.
Add the rice, garlic, paprika, 1/2 tsp. salt, and a generous pinch of pepper. Cook, stirring frequently, until the rice is lightly toasted, about 2 minutes. Add the broth, bring to a boil, then reduce to a simmer. Cook until the rice is just tender, 8 to 10 minutes. Add the chicken and celery leaves, and cook until the chicken is just cooked through, 2 to 3 minutes. Season to taste with salt, pepper, and lemon juice. Garnish with the fennel fronds, if you like.
nutrition information (per serving):
Calories (kcal): 260, Fat Calories (kcal): 90, Fat (g): 10, Saturated Fat (g): 2, Polyunsaturated Fat (g): 1.5, Monounsaturated Fat (g): 6, Cholesterol (mg): 40, Sodium (mg): 240, Carbohydrates (g): 21, Fiber (g): 2, Sugar (g): 4, Protein (g): 22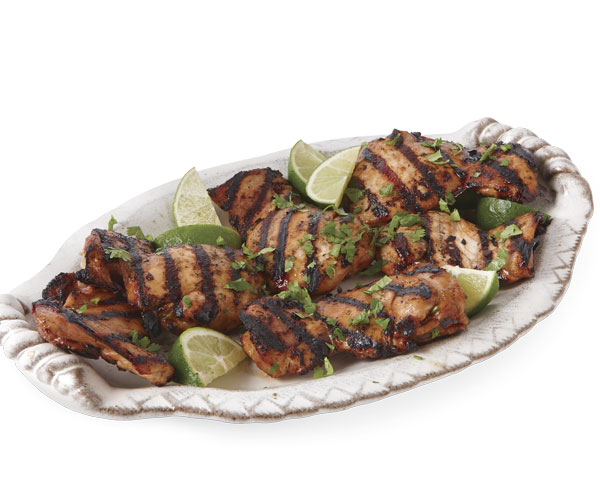 PREVIOUS ARTICLE
Tequila-Lime Chicken Thighs