Home
New Year's Black-Eyed Pea Curry
New Year's Black-Eyed Pea Curry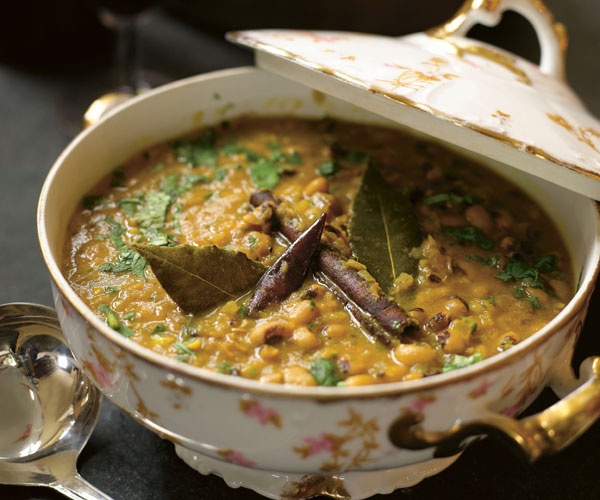 Throughout the Southern states of America, black-eyed peas are served for good luck on New Year's Day. They're excellent with stir-fried cabbage—also considered a good-luck food, since it supposedly represents folded currency—and rice, of course (in the South, this dish would be called Hoppin' John). In India, my family's recipe for rongee, Hindi for "black-eyed peas," is just as tasty.
1/4 cup canola or grapeseed oil
8 whole green cardamom pods
6 whole cloves
3 whole dried red chiles
2 bay leaves
1-inch piece cinnamon stick
1/2 tsp. freshly ground black pepper
1/2 tsp. whole cumin seeds
1-1/2-inch piece fresh ginger, peeled and grated
1 large red onion, finely chopped
1 Tbs. kosher salt, extra if needed
3 medium tomatoes, quartered
2 garlic cloves, finely minced or pressed through a garlic press
1 Tbs. ground coriander
1 tsp. ground cumin
1 tsp. ground turmeric
1/2 tsp. cayenne pepper
1/4 cup plain yogurt
3 15-1/2-oz. cans black-eyed peas, rinsed and drained
1/2 tsp. Garam Masala
1 cup water
Heat the oil with the cardamom, cloves, chiles, bay leaves, cinnamon, black pepper, and cumin seeds in a large heavy-bottomed pot over medium-high heat until the spices are fragrant, 1 to 2 minutes. Stir in the ginger and cook until it becomes fragrant and sticky, about 1 minute. Add the onion and salt, and cook, stirring often, until the onion turns deeply browned and sticky, 15 to 20 minutes. If the onion begins to stick to the bottom of the pot or begins to burn, reduce the heat to medium and splash the pan with a few tablespoons of water, scraping up the browned bits and stirring them into the onion.
While the onion browns, place the tomatoes in a blender or food processor and purée until they are completely smooth. Set aside.
Stir in the garlic and cook until fragrant, 30 seconds to 1 minute, and then add the coriander, ground cumin, and turmeric, cooking until they begin to smell toasty, about 30 seconds. Stir in the cayenne pepper and 2 tbsp of the yogurt. Cook until heated through, about 1 minute, and then add the remaining 2 Tbs. yogurt. Continue to stir and cook the yogurt and spices until the contents of the pot are thick and sticky and the liquid from the yogurt has evaporated, about 2 minutes. Stir in the tomato purée and bring to a boil. Reduce the heat to medium-low and cook until a film of oil pools on the surface of the sauce, 6 to 8 minutes.
Stir the black-eyed peas, garam masala, and water into the tomato mixture. Increase the heat to medium and cook, stirring often, until a bubble or two breaks at the surface, 5 to 7 minutes. Season with salt and serve hot.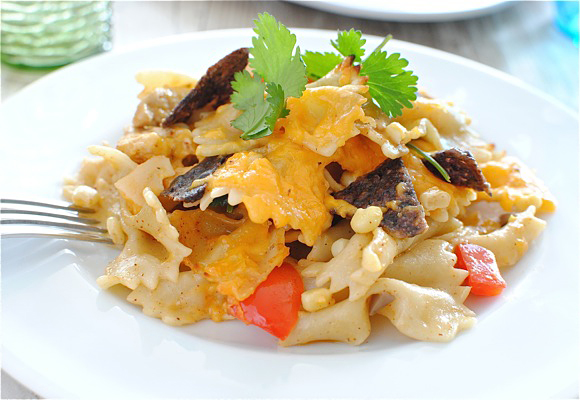 PREVIOUS ARTICLE
Mexican Chicken Pasta Bake