Home
Slow-Cooker Lemon-Thyme Chicken with Carrots and Potatoes
Slow-Cooker Lemon-Thyme Chicken with Carrots and Potatoes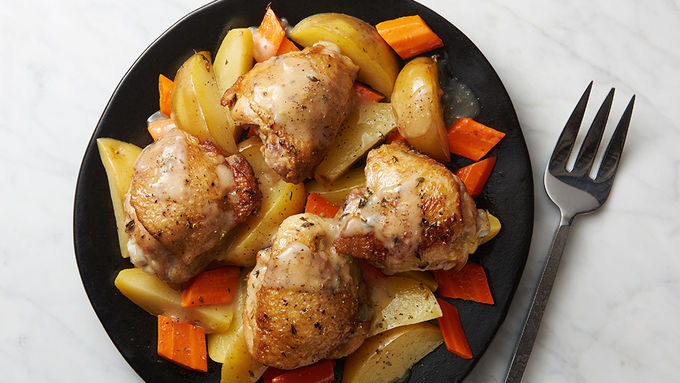 Chicken thighs, potatoes and carrots meet a bright, lemony sauce (made right in the slow cooker!) for an ultra-easy and surprisingly elegant weeknight meal.
Ingredients
4 medium carrots, cut in half lengthwise, then diagonally into 1-inch pieces
3 medium Yukon gold potatoes, each cut into 6 pieces
1 teaspoon salt
1/2 teaspoon pepper
4 bone-in skin-on chicken thighs
2 teaspoons olive oil
1/2 cup Progresso™ chicken broth (from 32-oz carton)
1 teaspoon grated lemon peel
3 tablespoons lemon juice
2 teaspoons chopped fresh thyme leaves
1 tablespoon cornstarch
1 tablespoon water
Directions
Spray 5-quart slow cooker with cooking spray. Place carrots and potatoes in slow cooker. Season vegetables with 1/2 teaspoon of the salt and 1/4 teaspoon of the pepper.
Season chicken thighs with remaining 1/2 teaspoon salt and 1/4 teaspoon pepper. In 10-inch skillet, heat oil over medium-high heat. Place chicken skin side down in skillet. Cook chicken 8 to 10 minutes, turning once, until browned on both sides. Transfer chicken to slow cooker.
In small bowl, stir together chicken broth, lemon peel, 2 tablespoons of the lemon juice and the thyme. Pour over chicken. Cover; cook on High heat setting 3 1/2 to 4 hours or Low heat setting 5 to 6 hours or until chicken is cooked through and vegetables are tender.
Transfer chicken and vegetables to serving platter; cover and keep warm.
In small bowl, beat cornstarch and water with whisk; stir into cooking liquid in slow cooker. Cover; cook about 15 minutes or until thickened. Stir in remaining 1 tablespoon lemon juice. Serve chicken and vegetables with sauce.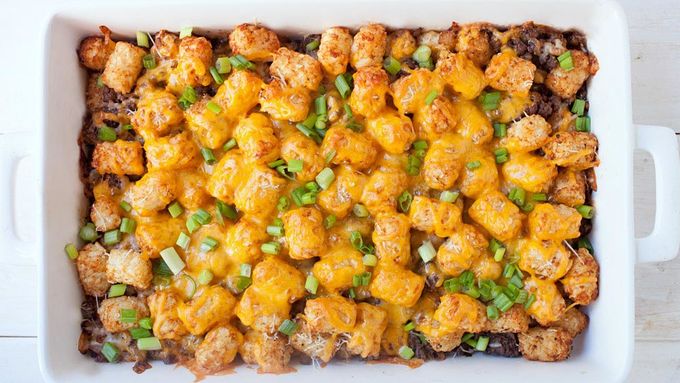 PREVIOUS ARTICLE
Three Cheese Beef Tater Tot Casserole