Home
Tequila-Lime Chicken Thighs
Tequila-Lime Chicken Thighs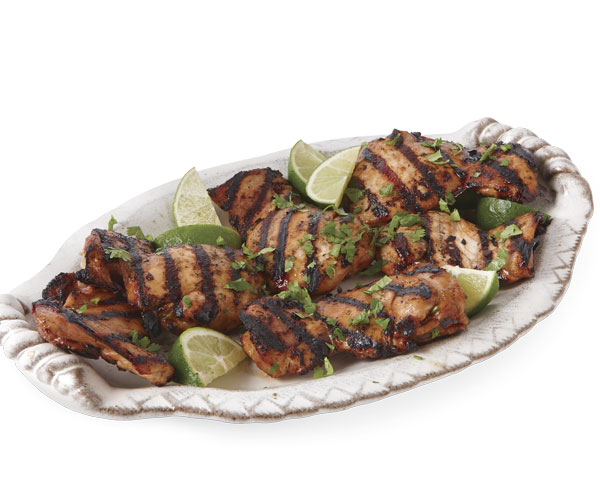 Golden reposado tequila is used in this recipe for its woody, smoky personality, which complements the chipotle chile and the char of the grill. For a full, robust tequila flavor, be sure to let the chicken marinate for at least 8 hours.
1/3 cup tequila, preferably reposado
1/3 cup fresh lime juice (from 2 large limes)
1/4 cup agave syrup
3 large cloves garlic, finely chopped
1 tsp. chipotle chile powder
1 tsp. ground cumin
1/2 tsp. dried oregano, preferable Mexican
Kosher salt and freshly ground black pepper
8 boneless, skinless chicken thighs (about 2-1/2 lb.), trimmed of excess fat
Peanut or vegetable oil, as needed
1 lime
1/4 cup coarsely chopped cilantro; more to taste
In a medium bowl, whisk the tequila, lime juice, agave, garlic, chile powder, cumin, oregano, 2-1/2 tsp. salt, and black pepper to taste. Add the chicken, turning to coat. Cover and refrigerate for at least 8 hours or up to 2 days.
Prepare a medium (350°F to 375°F) gas or charcoal grill fire.
Remove the chicken from the marinade and shake off the excess liquid. Brush the chicken and the grill grate with the oil. Grill, flipping once, until charred in places and cooked through, about 8 minutes total.
Remove the chicken from the grill, cover with foil, and let rest for 5 minutes. Squeeze half a lime over the chicken, garnish with the cilantro, and serve with the remaining lime, cut into wedges.
nutrition information (per serving):
Calories (kcal): 440, Fat Calories (kcal): 200, Fat (g): 23, Saturated Fat (g): 6, Polyunsaturated Fat (g): 5, Monounsaturated Fat (g): 10, Cholesterol (mg): 260, Sodium (mg): 370, Carbohydrates (g): 6, Fiber (g): 0, Sugar (g): 4, Protein (g): 49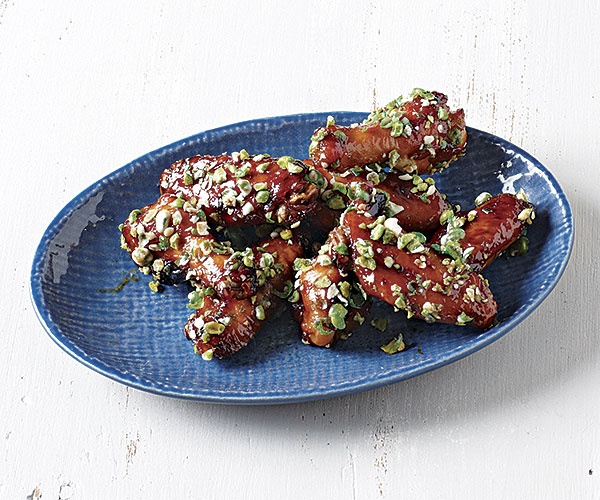 PREVIOUS ARTICLE
Maple-Wasabi Chicken Wings