Home
Three Cheese Beef Tater Tot Casserole
Three Cheese Beef Tater Tot Casserole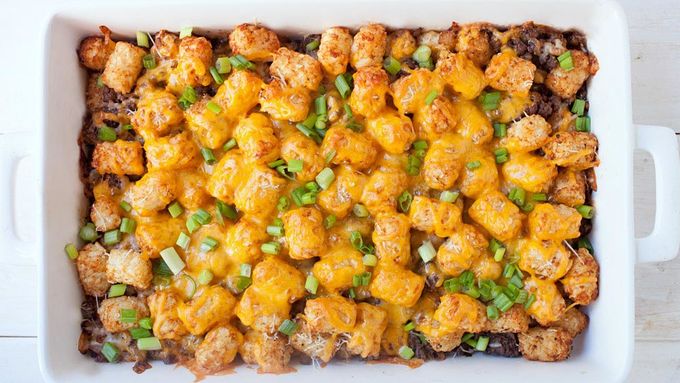 Easy, cheesy ground beef casserole with crispy golden tots. Need we say more?
Ingredients
1 tablespoon olive oil
1/2 sweet onion, diced
2 cloves garlic, minced
1 lb ground beef
1 teaspoon kosher salt
1 teaspoon black pepper
1 teaspoon chili powder
8 oz cheddar cheese, grated
4 oz Gruyere cheese, grated
1 oz Parmesan cheese, grated
2 lb (32 oz) frozen tater tots
Chopped scallions, for garnish
Directions
Preheat oven to 350°F. Lightly oil a 9×13-inch baking dish.
Add olive oil to a large skillet over medium heat. Add onion and garlic and cook until translucent, about 5 minutes. Add ground beef to the skillet and cook, breaking up the beef as you go, until the meat is well browned, another 8-10 minutes. Season beef with salt, pepper, and chili powder.
In a large bowl, stir together beef mixture with half of the frozen tater tots, half of the cheddar cheese, and entire amount of Gruyere cheese. Stir very well to combine and transfer mixture to prepared baking dish. Top casserole with remaining frozen tater tots and bake for 30 minutes.
Remove from oven and top with remaining cheddar and grated Parmesan.
Return to oven for 15-20 minutes until casserole is hot in the center and cheese is melted throughout. The tater tots should be crispy and golden brown on the edges.
Remove casserole from oven. Top with scallions and serve while warm.
Frozen tater tots are one of my favorite meal shortcuts and you can do so much with them beyond just cooking them according to the package. This delicious casserole uses them as a base but adds a great easy beef mixture and three different cheeses to take the casserole to another level!
The star of this casserole is really the cheese. I like to use multiple cheeses that have different flavors and properties that work well together in the casserole. Cheddar melts perfectly. Gruyere has some creaminess to it. Parmesan gives the casserole some saltiness and a crispy topping. (Did I mention that melted cheese is the best thing in the whole world? You gotta try this one!)
Because the tater tots are frozen, this will need to bake for a total of 50 minutes or so to cook all the way through. Keep an eye on it as it bakes and rotate pan halfway through if needed to ensure even cooking.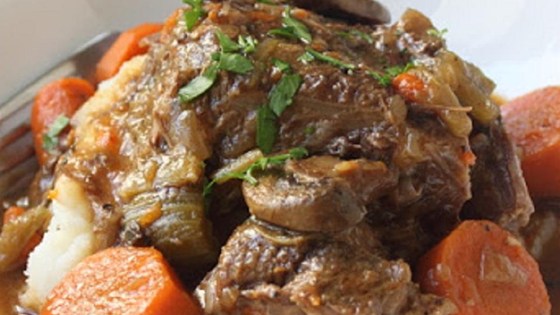 PREVIOUS ARTICLE
Slow Cooker Beef Pot Roast